Next Generation English Pad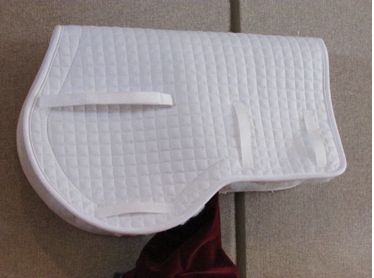 Tack Room, Incorporated's NEXT GENERATION english number pad. Is designed with Super Quilt brushed 100% cotton top layer that's soft but durable. The breathable inner wicking batting won't retain heat, soaps or moisture. It washes easily and dries quickly. The CoolBack™ cotton fleece bottom is 100% orthopedic polyester fleece, designed to release heat rapidly for excellent moisture management. Without exception, CoolBack™ is the finest polyester fleece on the market. The attachment straps will keep this pad in place so it doesn't bunch up or slip out of place. Your competition number can be pinned on for great visibility. Your horse will love the pad for the comfort and you will love its easy care and beauty in the show ring.
Available in three different sizes to suite the size of your saddle.